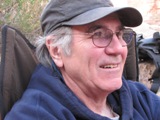 Jeremy Howell attended the University of Wisconsin, Madison campus for his undergraduate degree. He worked in Madison for a few years assisting in the development of a residential treatment program for adolescents before returning to the University of Wisconsin, Madison to get his graduate degree in Social Work. Jeremy came to Coos County in 1975 to work for Children's Services Division. While there he developed treatment programs for children who had been sexually abused.
In the early 1980's Jeremy, along with two colleagues, went into private practice and formed the Coastal Center, LLC. Since that time the Center has been an important resource to the coastal communities, providing services from Brookings to Florence.
Jeremy has been a Licensed Clinical Social Worker in Oregon since 1982. He has provided services to children, adolescents, adults, families, and couples. He has a specialty in dealing with adolescent behavioral problems and issues related to the successful transition of adolescents to the adult world and independence. Jeremy provides special assessments and treatment related to the sexual behavioral problems of children and adolescents.
In his spare time Jeremy takes time to ski, raft various rivers, climb mountains, and mow the 2 acres of pasture and lawn on the small ranch he and his wife live on.